Are you looking for ways to bring kid's ministry to your community? Hear how a family team has made an impact in their public elementary school through a Good News Club for the past ten years.
Aubrey: What is your group of students like?
Sarah (daughter): Many of our students come from troubled homes and a few from solid Christian homes. We have had some special needs kids who have participated in the club with enthusiasm. Some of our children are challenging, and some are very well behaved. Overall our kids have been eager to hear the Good News and enjoy taking part in the club. This year we have had 36 kids enrolled in our club, with weekly attendance at around 20.
Aubrey: How did your Good News Club get started?
Karen (mom): A godly friend told us about the ministry and their need for volunteers to go into public schools. We thought it was a good opportunity for family ministry that would fit in well with our homeschooling. Our four older kids (ages 15-21 at the time) were trained how to teach children, and the younger three (ages 10-13) participated and helped in the club until they were old enough to also be trained and take part in teaching. The training was great in equipping us to share the gospel not only with children, but with anyone we meet! It also opened our eyes to those from different backgrounds and gave us a heart to make a difference in their lives.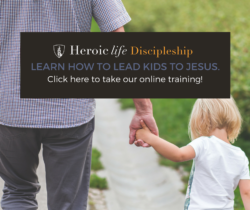 Aubrey: What does your Good News Club typically look like for you?
Karen: Our team of volunteers arrives at the school around 30 minutes before start-time. We sign in at the front desk and begin prepping the cafeteria for the club (taping off small-group seating on the floor, putting up the Bible timeline, organizing visuals, etc). We pray as a group and go over the schedule and any special things to be aware of during club. At precisely 3:15 the bell rings, and kids start coming in. They throw their backpacks to the side and grab a nametag, a volunteer signs them in, and they go up to the front and sit in their assigned color-coded small-group section. Another volunteer passes out a snack, informally chats with the kids about their week, and possibly leads them in a short game. When all of the kids have arrived, we officially welcome them, pray, and go over the rules. We sing our welcome song and immediately after begin the Bible lesson. The lesson goes for about 15 minutes, and then we sing a song, followed by the memory verse lesson for another 12 minutes. At the end of either the lesson or verse, we share the gospel and give the children a chance to come to the back of the room to talk with a volunteer about what it means to believe and follow Jesus and/or to talk about any questions they might have about the lesson. During this time, if the Lord leads, they have an opportunity to make a decision for Christ. Often this time ends up being one of personal discipleship with a child that has already received Jesus as their Lord and Savior.
Sarah: After another song, the kids are dismissed to go to their small group. Each group has one of our volunteers who leads four or five children. During this time, each child is given a sheet to color while the leader goes over review questions from the lesson. After that, prayer requests are taken, and they pray together. The small group lasts about 15 minutes. We congregate at the front for the final 5 minutes to go over any announcements and sing a last song together. The children are then dismissed, and they drop off their name tags, pick up their backpacks, and grab a snack and a verse token from the day's verse. After the kids are gone, the staff cleans up and discusses the club, including any highlights or things that should be addressed or changed for the next club.
Aubrey: How do you and your team prepare for the lessons?
Karen: During the week prior to club, we make sure we have all of our supplies, snacks, lesson preparations, visuals, and songs ready for the next week. I do the administration work of scheduling who will teach and what songs we will sing and of making sure the small group supplies and snacks are replenished and ready. For the person teaching, preparation varies. We typically will study over the lesson for an hour or two to become familiar with it and the visual and to prepare any additional thoughts.
Aubrey: Are you involved with the children in other ways besides the Good News Club?
Karen: This past summer, we invited the children to a five-day Bible club that we held at our home. We send the children encouragements and Bible verses in the mail throughout the semesters and the summer. We also have Bibles available for those who do not have a Bible. At Christmas and at the end of the year, we give them gifts, which include a devotional book or DVD that will encourage them in the Lord.
Sarah: We have also had some good opportunities to talk with parents as they pick up their children. This has been a good time to thank the parents for having their child be part of our club and to encourage them by sharing how their child has been a blessing to our club. We have been able to encourage and pray for them after learning of hard family situations.
Aubrey: What are some highlights from time you've spent with the kids?
Sarah: We always love singing together and recently have brought a guitar to add to our worship times. The kids get so excited and love to sing along and learn new songs. The times of prayer are always sweet where they learn to pray and talk to God. During the verse review game, the kids always get excited, and it is a good time to let them get their wiggles out by adding big actions and fun voices to the verse. I usually end up doing a one-on-one with any child who has been challenging during club, which can sometimes be difficult but usually proves to be a time when the child can ask questions about God's Word and things he or she has been struggling with. These one-on-one times have been very beneficial and fruitful.
Aubrey: Have you experienced any fruit?
Karen: We have seen several children come to the Lord—some younger and some older. These children have an increased desire to learn about God. Some of the children's parents have written encouraging notes and explained to us that our club is making a difference in their child's life. The children make us gifts and sometimes write us notes saying they're thankful for what we do.
Aubrey: Any tips for fellow ministry leaders and teachers?
Karen: Our own personal time with God needs to be vibrant and consistent. Pray! If there is one thing that's more important than anything else, it is bathing the ministry, our fellow volunteers, and the children and their families in prayer all throughout the week. We remember the children's prayer requests and also pray for them during the week. More than anything, we have seen prayer to be the most effective influence on the club and on our children.
Prayer for your children, volunteers, and ministry is vital. We are aware that it is God's ministry and that we are His tools. Even when it has been a major struggle to get to club and pull things together, we always leave grateful for the opportunity to see how God uses our Good News Club in the lives of the children in spite of us! We are humbled and blessed when we see the Holy Spirit touch the hearts of these little children, calling them to Himself.
For resources and training on how to make a greater impact in children's ministry, take our Online Leader Training Course. You'll learn to clearly communicate biblical concepts to children, tell compelling stories that engage your listeners, and lead discussions with children that result in real-life change. Take our Online Leader Training Course HERE.